Our Verdict
The iPhone XS is, obviously, the best that Apple's ever created – that's no surprise, as it's the new flagship iPhone. However, the question is whether Apple has done enough to make this the most attractive to buy, and whether it's enough to stop anyone moving to a competitor. The iPhone XS is good enough in many ways, but it's much of an upgrade over 2017's X. It's still an excellent smartphone, but doesn't redefine anything the way last year's phone did – the main upgrade is the camera, with Smart HDR making a difference. If you're looking for a great iPhone, this is it – but you might want to wait a month and see what the iPhone XR offers instead.
For

Smart HDR helps the camera
More powerful again
Fast operation in the hand
Against

Battery life not world-beating
Design not altered in a year
Still very expensive
Editor's note: We've not given the iPhone XS a star rating yet as we've not had time to fully run our full suite of battery and camera tests – we'll append a final score in the very near future, but want to make sure we're convinced before making recommendations.
This is the iPhone XS – pronounced '10-S', not 'excess' as you might think. Looking identical to last year, you might think that not a lot has changed, but it's inside where the differences lie.
This is a weird situation for a review – usually, when looking at an 'S' variant of an iPhone, we're asking the question of whether it's better than the now-cheaper model from the previous year.
In 2018, however, Apple has made the choice to discontinue the iPhone X, so while we can draw comparisons they won't help you make an informed choice (unless you can still pick one up while stocks last).
If you want the best iPhone Apple has created, the iPhone XS is surely it – but do the tweaks inside really make it worth a buy, and are they enough to fend off the ever-improving competition?
There's also the specter of the iPhone XR lingering – it's a more affordable version in many ways compared to the iPhone XS, but until we can test that in the future (it's due out later in October) it's hard to say that the iPhone XS is the best Apple handset for you.
iPhone XS price and release date
The iPhone XS is now available to pre-order in most countries around the world, with the handset going on sale globally from September 21 if you want to pick it up from a store.
In terms of price, the good (ish) news is that the cost hasn't risen over last year's incredibly expensive iPhone X, with the 64GB iPhone XS price coming in at $999 / £999 / AU$1,629. 
The 256GB iPhone XS price is $1,149 / £1,149 / AU$1,879, and the 512GB iPhone XS price is $1,349 / £1,349 / AU$2,199.
That said, while the cost of rival smartphones has been going up, the iPhone XS is still going to be one of the most costly phones you can buy (apart from the iPhone XS Max, which will have the eye-watering price tag of $1,099 / £1,099 / AU$1,799 as the cheapest option).
Key features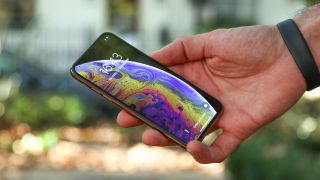 Usually in this section, we'd talk about all the new features that the phone brings – but in this case there really aren't that many, Apple resolutely sticking to the idea of launching an 'S' phone with little changed other speed improvements and a few other performance bumps.
That's not to say it isn't impressive, and useful, new hardware in the iPhone XS, but much of it won't be instantly discernible to the average user.
Probably the biggest change that is easy to spot is the new color: the gold variant is more mocha than anything else, with a touch of copper in the shade, and brings another option to the Space Gray and silver options.
We can only surmise that this was possible because the chassis of the iPhone XS is so similar to that of the iPhone X, so it wasn't expensive or time-consuming to alter the process to add in a new hue.
A12 Bionic chipset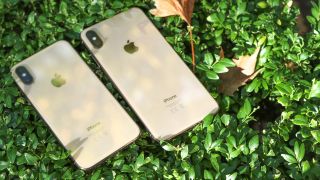 Loads of power
Neural Engine brings enhancements throughout
Brings more powerful AR capabilities
Apple is proudly talking up its new chipset, and that's with good reason: it's one of the most powerful on a smartphone, created as it was with a 7nm process. 
That might not mean something to everyone, but essentially it means that more transistors can be chucked onto this hexa-core CPU, which has two 'power' cores and four more efficient options.
However, the slower cores are still actually more powerful than any of those found in the iPhone 6, a handset only four years old, showing just how rapidly the improvement is coming in efficiency and power from the engine of modern smartphones.
One might question whether this much power is needed, and sure – if you're just browsing the web and sending messages it's utterly wasted. 
However, if you want to explore the world of augmented reality, then these extra transistors are on hand to help out.
There's also a new 'Neural Engine' in the mix, allowing your phone to become more intelligent and learn as it goes. 
It adds a 'smart layer' to proceedings, allowing the handset to recognise things on the screen, whether that's appending an Animoji to your head in real time during a FaceTime call, or working out what's needed to improve the quality of a photo as you're taking it.
It's hard to really quantify the benefit of this improved chipset apart from through numbers. Running the iPhone XS through the Geekbench CPU testing process showed that it's one of the most powerful phones we've ever used: a score of 11,481 is over 1,000 more than the iPhone X from last year and better than anything we've seen out there.
That speed improvement is easy to feel within the phone, as the iPhone XS is one of the snappiest handsets we've ever tapped our way through. 
However, it's tricky to say how much is from the hardware and how much through the improved iOS 12 software – but either way, it's a really, really rapid experience.
The A12 chipset brings a step up in graphical performance too – gaming is getting ever closer to console-level graphics and we had the chance to check out a few AR titles too.
That said, we're still not fully convinced by the benefit of AR gaming – it's mildly diverting for a while, but many titles still seem to lack the overall polish that more typical iPhone games bring like Elder Scrolls: Blades, where you've got incredible gaming prowess mixed with high-level effects within.
For instance, we played ElemenTao and not only did it lack any kind of tutorial but it was a bit clunky when trying to play it on a desk. That's not really the fault of the game, but rarely do we have a large table with nothing on it that either we can play solo titles, or with chums. 
Yes, there will be moments when it's cool, but they'll be as rare as deciding to play board games of an evening – it depends if that's what you're into.
Current page:

A12 Bionic: making a more powerful iPhone

Read More
https://www.techradar.com/reviews/iphone-xs-review